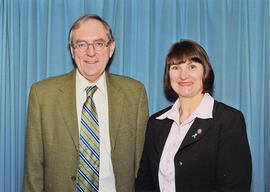 2020-014
·
Fonds
·
1979-2019, predominant 2007-2018
Consists of records generated by Bennett's writing and research activities as Director of Schoolhouse Institute including typescripts, drafts, and published versions of his commentary (opinion editorials) news media articles, book reviews, and research reports (2008-2017); and 3 of his published books: Vanishing Schools Threatened Communities (published 2011) on history of rural school closures in NS; The Grammar School (published 2009) on history of Halifax Grammar School; and The Last Stand (published 2013) on the lobbying activities of the NS Small Schools Initiative. Bennett's research files include interview notes, collected articles and reports by others with his annotations (collected 2005-2019) and were used to support his writing and presentations. Records from The NS Small Schools Initiative include minutes of school board meetings, emails between group members, and their presentations to government. The Students First NS files include public forum discussion notes and emails with organizers (2009-2016).
The fonds also includes power-point slide presentations Bennett presented to professional educators and historians conferences as well as to local heritage group events, including a video recording of a talk Bennett gave at the Yarmouth County Museum and Archives on the history of school building in Nova Scotia (2010-2017).
Subjects include history of the education system and governance in Nova Scotia, school closures and consolidations, school board reforms, snow days, e-learning, teacher and student evaluations (standardized testing), Public Private Partnership (P3) schools, bussing of children, and special education and inclusiveness in the last half of the 20th century.
Bennett, Paul W.